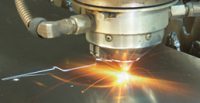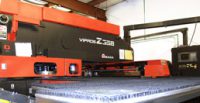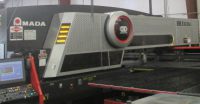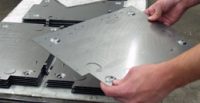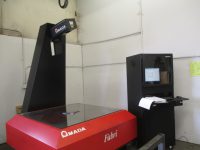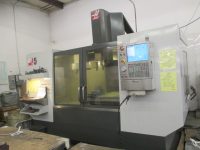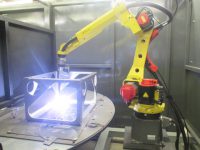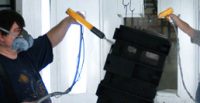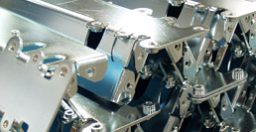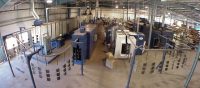 Computer Design
Solid Works to import your computer designed files. DXF, DWG, IGS, SLDPRT and STP files can be imported via disk or email. We can view the print files in DXF, HPG, PDF and SLDDRW formats.
Shearing
Shearing up to 36"x 48" in 10 ga CRS.
Punching
Two Amada turrets with 50"x 72" table capacity and the latest in an automated turret cell a 358Z PDC with ASR410 6 pallet loader.
Click to view our Punch Tooling List
Laser Cutting
Amada FO 3015 4000 watt 5'x 10' with shuttle tables. Capacity: 3/4" steel – 1/2" stainless steel -1/2" aluminum.
Graining
2 sanders to handle all graining and deburring needs. Wet-Dry capacity up to 36".
Milling
Haas VF5 Machining Center
Forming
4 CNC press brakes -2 HDS 1303 NT machines 10′ x 140 tons.
Hardware
3 Haeger presses – 2 with touch cabailities for insertion of your PEM style hardware.
Spot Welding
Amada spot welder to satisfy all of your Aluminum, Stainless and Steel needs.
Mig and Tig Welding
Lincoln and Miller machines along with competent welders to handle the majority of aluminum, stainless and steel jobs.
Robotic Welder
Fronius TPS 4000 CMT welder/Fanuc 100iC Robotic arm, 88″ turn table
Powder Coating
A leading edge 720' powder coat line with a Gat 5 stage pre-treatment washer, dry off oven, 20 minute cure over, along with an 10' IR for pre-gel. Nordson dual collector booth, Gema guns. Capacity: 2 ½' x 3 ½' x 8'
Silkscreen
From camera-ready artwork to single or multiple colors we can achieve the quality you need.
Assembly
Amerson has a separate assembly area to perform your final assembly operations.
Quality
ISO9001-2008 certified and a Mitutoyo Coordinate Measuring Machine.